Guided by Spiritual grace, with joyful noise, the First Contact Reconciliation Collaborative (FCRC) continues to take up Call To Action sessions, testing individual & corporate witness, and threshing actions toward righteous relations with all of Creation.
---
Guidelines for those Seeking Healing Relations with Indigenous Peoples: Lessons of Lenapehoking
With humility, allies of local, sovereign Native Nations faithfully embrace lifeways of accompaniment toward lasting peace and friendship. We invite individuals and corporate structures to consider decolonizing acts that include, yet are not exhausted by the following:
We trust the sovereignty of tribal nations – each Native Nation's total authority over its own identity, culture, and lifeways.
We acknowledge divisive acts upon the "original people" of Lenapehoking, both those who have remained and those of the diaspora who are removed from their ancestral homeland.
We refrain from interacting with indigenous citizens, particularly with heads of state (chiefs) in a familial/ intra-relations manner, mindful of being "outsiders."
We express sincere gratitude to tribal ancestors, chiefs, spiritual leaders, council members, elders, culture-bearers and youth for the shared use of their homeland.
We reciprocate rightly ordered "obligatory" hospitality, agape, friendship, and peace.
We listen and patiently process authentic indigenous voice(s) anew, with appreciation.
We do not presume to be deserving of acceptance by self-defining; "Allies cannot be self-defined. They must be claimed by the people they seek to ally with." ~Unsettling Minnesota
We secure prior permissions before taking photographs or making recordings of events, finding that assumptions of forgiveness after the fact dismissive of human/ cultural rights.
We speak from one's own experiences with care for the use of pronoun markers of identity; "outsiders" will always be on the outside and are not to speak for indigenous peoples.
We speak of "others" as if they are in the room, for they may be present without one's knowing.
We commit to (re)educating ourselves on historic truths and cultivating decolonizing lifeways.
We strive to be responsible in the use of space, resources, and the natural environment.
We act out of concern for cultural lifeways holding domination and lack of human equity, rather than shame or guilt
We do not condone co-opting indigenous cultures, such as non-native people conducted indigenous ceremony, wearing regalia, replicating Indian Art design patterns and crafting of Tribal iconography.
Therefore, the First Contact Reconciliation Collaborative/ host organization will address network individuals and corporate structures that fall away from these guidelines; those seeking right relations hold expectations of compassion and compliance; should abrasive acts or conversations persist, those dishonouring ally relations may be excused from participation and/ or eldered toward clearness of cross-cultural missteps.
First Contact Reconciliation Collaborative "Guidelines…." is a living document open to peer review. Current draft updated 5th day Third month, 2020.
---
First Contact Reconciliation Collaborative (FCRC) areas of focus for 2022
We are focusing on three different areas of work that go beyond land acknowledgements with monthly and quarterly meetings this year. These are:
Honoring the Promise of perpetual peace and friendship between Lenape (who have remained on their original homelands) and Philadelphia Yearly Meeting Friends from the Treaty of Amity, 1995.
More info and resources on this topic:
Doctrine of discovery (below)
Treaty of Amity
Change the Mascots: Educating individuals and schools on how they might choose to support campaigns to remove harmful mascots in New Jersey and Pennsylvania. Educating ourselves and others on national campaigns that benefit indigenous peoples.
More info and resources on this topic: 
Truth and Healing – seeking oneness with Friendly investigators re-story-ing truths: Engaging in truth-telling and healing through storytelling, sharing, and joining together to understand and know our truths. This means looking at meeting history, burial records and researching Quakers roles in colonization past and present and how that has affected Native Peoples.
More info and resources on this topic
Researching Friends' historic roles in Indian Boarding Schools
Tending to Oneness – What has you feeling connected to this world and this issue?
Some cautions as meetings, individuals and quarterly meetings approach this work.
Queries for your Meeting or groups
How might accountability & revelation be complimentary; incompatible?
We wonder whether Friends might be enlivened to their condition of living peace, relative to Indigenous Peoples as Friend Lucretia Mott posed in 1869 (153 years ago), might Friends be "active enough in our labor"?
---
Federal Indian Boarding School Initiative announced
by Interior Secretary Deb Haaland (Laguna Pueblo) on June 22, 2021, acknowledging our complicity in the historic trauma of the boarding school era; this compliments the work of the National Native American Boarding School Healing Coalition inviting churches to be involved in healing a broken place of our shared history – yes, Friends were involved…how might Friends today address the deliberate policy of ethnocide and cultural genocide of the ~16 – 30 IBS under their care, no fewer than 25,000 Indigenous children, impacting their ancestors and contemporary Tribal Nations and today's Native American families? How might we look to prevent this from ever happening again?
---
Divine Sparks of Decolonizing Trauma
Along the path of education, companionship & allyship, we are mindful of and encourage self-care – spiritually, mentally, emotionally, and physically. A list of resources is made available by The Native American Boarding School Healing Coalition.
---
Philanthropy, honey, it's time for an intervention. — Edgar Villanueva
---
FCRCollaborative: Networking
Recommended book read: DECOLONIZING WEALTH: indigenous wisdom to heal divides and restore balance, by edgar villanueva (Lumbee) (2018)
---
"Children who learn the truth of the past will be better positioned to take preventative actions, form new relationships, and build a proud future together."~Nemattanew Chief Roy (Crazy Horse) Johnson, Powhatan Renape Nation (Dec. 7, 1924 – Nov. 11, 2004) Chief, civil rights activist, Executive Director of the Coalition of Eastern Native Americans in Washington, D.C.
---
RACE BASED MASCOTS
Call To Action: Listening to Tribal Nations' and Institutions' perspectives on American Indian team mascots and imagery, this PYM First Contact Reconciliation Collaborative finds just unity toward eliminating such conditions that deny beloved community. FCRC is available for communing threshing sessions as needed, becoming aware of  circumstances that may lead to various forms of faithful action.  An FCRC (virtual) "runway" workshop, Race Based Mascots: A Prime Challenge to Decolonize, PYM Annual Sessions 2020, included this unique documentary interview; additionally, we stand with the following voices:
Even though some [mascots & imagery] are said to be in an effort to "honor our people," most are insulting and racist and all reinforce insensitivity and stereotypes. Often our children must visit or attend schools where their race is being caricatured on walls, shirts, jackets and flags. Our proud tribal names, villages, heroes and even rituals are turned into marketing tools and demeaned. Sadly, it has been our experience that when we try to educate such offenders, we are verbally… and sometimes even physically… attacked. Having such mascots is NO HONOR… It is an INSULT!
ACET's Statement on American Indian Mascots Jun 20, 2014, by John Norwood  … in an effort to heighten public awareness to the issue of harmful American Indian mascots in general, and their use by the Washington Redsk*ns in particular.   Additionally, ACET applauds … fans of the Washington Redsk*ns, but not the use of the derogatory and racist name or the disrespectful and stereotypical behaviors it promotes.  The use of American Indian caricatures …
Tara Houska, Anishinaabe and a member of Couchiching First Nation, is an attorney from Washington D.C. and founding member of  Not Your Mascots. Tara spoke with the  Dodging Bullets production team to discuss the R-word and historical trauma.
Maulian Dana, Penobscot Nation Tribal Ambassador, Indigenous Peoples in Maine are Not Mascots on TEDxDirigo; and letter/ petition " to remove the racially insensitive and harmful Indian mascot in the Mahopac school district." The outcome by the state of Maine – Act Prohibiting the Use of Native American Mascots by Public Schools in the Commonwealth
Several relevant pieces available through NCAI: Proud To Be  Ending the Era of Harmful "Indian" Mascots (YouTube 2 min. video); NCAI Position Paper on Harmful "Indian" Sports Mascots; and an opinion piece, Would You Call Me Redsk*n To My Face, by (former) NCAI President Brian Cladoosby (Swinomish Indian Tribal Community.)
Led by Ray Halbritter, Oneida Nation Representative, Change the Mascot Factsheet and Change the Mascot Campaign – where we find Native Nations Unite to Speak Out Against Racially Offensive Mascot Name and latest press releases.
Mission Statement: The National Coalition Against Racism in Sports and Media (NCARSM) will educate and when necessary confront the individual, institutional and governmental influences that propagate racism in sports and media.
From the National Museum of the American Indian (NMAI): For decades, Indigenous people have worked to end the use of racist mascots and other racially charged images. On Monday, July 13, 2020 the Washington, D.C., NFL franchise, whose name has long been a dictionary-defined slur against Native Americans, announced they will retire the team's name and logo.
While this is, of course, a great relief to the people and organizations that have worked tirelessly to see this day become a reality, there remains concern about what the team's new name and mascot will be. The museum's leadership—Director Kevin Gover (Pawnee) and Board of Trustees Chair Bill Lomax (Gitxsan)—released a statement on ending the use of racist mascots and images.
In addition, Director Gover wrote an opinion piece that was published by the Washington Post….
In a recent article historian Prof. Phil Deloria, a museum trustee and the first tenured professor of Native American history at Harvard, discusses the parallels between Native mascots and Confederate statues.
---
15th Century Papal Bulls, Doctrines of Discovery – Christopher Columbus Holiday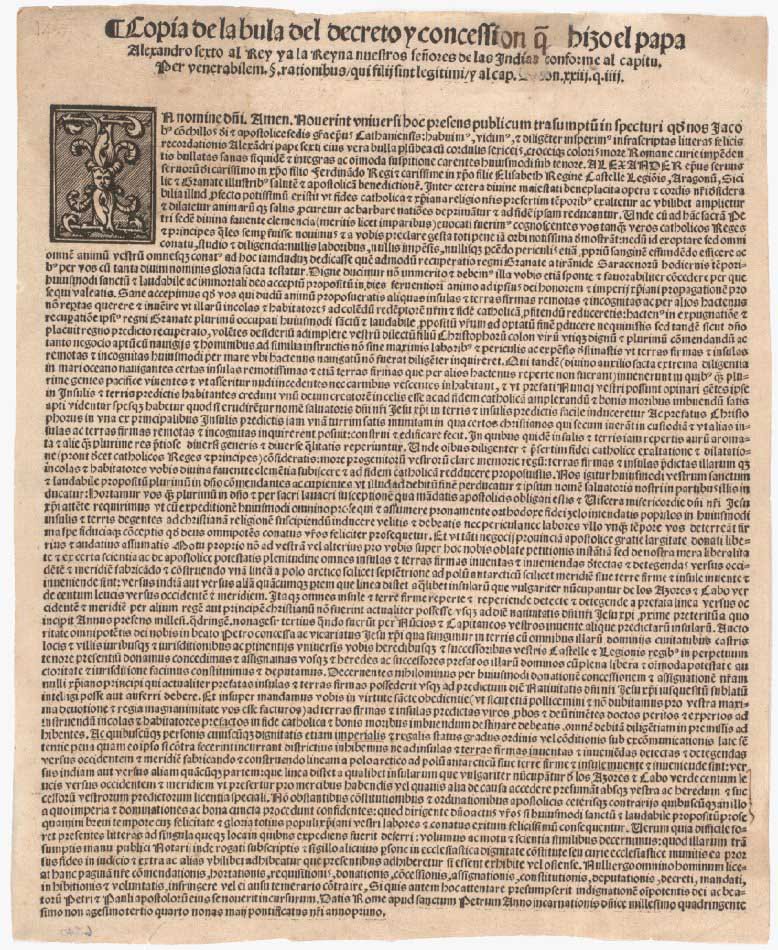 "…invade, capture, vanquish, and subdue all Saracens and pagans…to reduce their persons to perpetual slavery and to take away all their possessions and property." 1452 from Pope Nicholas V to King Alfonso V of Portugal.
The Papal Bull "Inter Caetera," issued by Pope Alexander VI on May 4, 1493 (pictured)
Doctrine of Discovery: Unmasking the Domination Code, Historical documentary of global domination and dehumanization spawned by little-known Vatican documents from the 15 century; Director Sheldon Wolfchild (Dakota) and Co-Producer Steven Newcomb (Shawnee, Lenape).
Doctrine of Discovery  An educational resource maintained by Indigenous Values Initiative and the American Indian Law Alliance.
Why Columbus Day Should Be Indigenous Peoples Day – Deb Haaland (the first Native American woman to serve in Congress)
Resolution Support to Change Columbus Day to Indigenous Peoples' Day, from NCAI
Position Statement on "Indigenous Peoples Day," from the Alliance of Colonial Era Tribes
These Cities (and States) That Have Abandoned Columbus Day
The Drake Manuscript titled Histoire Naturelle des Indesan, paintings and descriptions documenting the plant, animal, and human life of the Caribbean late in the sixteenth century. Spaniards had already begun to exert influence over the indigenous people of the area when explorers from England and France arrived, among them Sir Francis Drake.
Decolonization and spirituality are inextricably linked. ~George J Sefa Dei
Landmark Documentary – Doctrine of Discovery: Unmasking the Domination Code by filmmaker and Director Sheldon Wolfchild (Dakota) and Co-Producer Steven Newcomb (Shawnee, Lenape). A one-hour screening of a little-known history based on Newcomb's thirty years of research.
---
Thanksgiving
Thanksgiving for Everyone, NCAI Resolution
Words That Come Before All Else,  filmed on location at the Onondaga Nation School in Onondaga Nation, focuses on the purpose and uses of the Haudenosaunee Thanksgiving Address.
Haudenosaunee Thanksgiving Address
The Wampanoag Side of the First Thanksgiving
Thanksgiving Promotes Whitewashed History, So I Organized Truthsgiving Instead
---
Dawnland is a documentary investigation of the devastating impact of Maine's child welfare practices on the Maliseet, Micmac, Penobscot, and Passamaquoddy, collectively known as the Wabanaki, "People of the Dawnland." The presumption by the dominant culture holds that "assimilating into white society would improve quality of life and give [the Wabanaki children] a better future."
After a land acknowledgement we settled into worship with the grounding query –
"What is the relationship of taking of the land with taking of the children?"
We are mindful of three guiding questions:
what did we know about the story before viewing the documentary;
what aspects of this story are relevant today; and
how might our own family's cultural identity remains intact?
We further wondered about:
what might be surprising;
whether beliefs or assumptions are challenged;
how understanding sovereignty of Tribal Nations might influence those perspectives; and
might ethical considerations have influenced cameras to be turned off?
As requested, FCRC has gathered more information, some specifically addressing cultural misappropriations, stereotypes, and myths. We lean-in with the Wabaniki Peoples as they continue their truth-telling and healing.
---
PYM Minute of Action (2015):
Friends tested and affirmed the work of our clerks and our elders, since being tasked during Annual Sessions in July 2014, to help discern a way forward in addressing many -isms including-racism, sexism, genderism and classism. Friends also heartily affirmed that as a Yearly Meeting we: Commit to increase our consciousness as Friends about the intersection of privilege and race in our culture and spiritual community. We know our knowledge is often limited by our own experiences and that we have much to learn from each other and from outside resources. Commit to move forward with our entire community. The yearly meeting is the community of all our individual Friends and monthly meetings and this work needs to be done with the involvement of all of us. Commit to integrate this work into what we do in an ongoing way at the yearly meeting level. We want this work to become part of the fabric of what we do whenever we get together as yearly meeting members and attenders.
PYM Minute of Action: FCRC
The First Contact Reconciliation Collaborative finds the Philadelphia Yearly Meeting Minute of Action consistent with their inner light. Toward elimination of our "…isms" and walking a path of change, this collaborative is mindfully of:
seeking T(t)ruths, redemption, justice, and healing for all our relations;
taking actions toward right relationships.
---
In order to educate for social change we must engage the spirit and, in order to do so, we need to decolonize ourselves. ~R.A. Shahjahan
---
Extract from the Abington Peace Meeting
"Our friend has spoken of the barbarities which have been practiced towards the Indians, and of their present condition of degradation in contrast with their condition when William Penn landed on this continent. It occurred to me to ask if Friends were truly alive to their situation and to the fact of the treatment they have received from the agents who have been employed by the government and who have wronged them so shamefully, whether there would not have been more frequent and more earnest protests and appeals to the government on their behalf. We have not considered the wrongs of Indians as our own. We have aided in driving them further and further west, until, as the poor Indians said, 'You will drive us away, until we go beyond the setting sun.' I wonder if, with the profession we Friends have made, of care for the Indians, we have been active enough in our labor." ~Lucretia Mott, Abington Peace Meeting, 1869
Query: Like Lucretia in 1869, we wonder whether Friends are "active enough in our labor"?